Shopping Doors: Walking Through the Warehouse
Searching for that perfect antique door, but don't know where to start? We totally understand your dilemma; shopping for antique doors can be difficult and sometimes intimidating. Here at The Corbel, we will hold your hand through the door shopping process to make it as easy as possible……don't worry, we won't bite. Well, at least not hard.
Now before we get started with the shopping process, let us answer some common questions that you may have about the doors themselves.
Q 1: What types of doors do you have?
A 1: All the types. But seriously, we have solid wood panel doors, glass doors, iron doors, barn doors, shutters, doors with paint, doors without paint, pairs and singles. Our selection is vast, so come check us out, or visit our website at TheCorbel.com.
Q 2: Where do your doors come from?
A 2: Our European doors doors come from a variety of places, the most common being France, Belgium, Holland, and Germany. All of our doors are from the European region.
Q 3: When do you get new door shipments?
A 3: In general, we get our major door shipments twice a year: once in the Spring and once in the Fall. Our Spring shipment for 2019 is set for late March/early April.
Q 4: What size doors do you carry?
A 4: The majority of our doors are 8 ft or taller, with most of them being 8 ft. On rare occasions we do get shorter doors. If you are in need of a shorter door or a standard 6'8 door, give us a call at 225-654-0130, and we can check the warehouse for you.
Q 5: How much can you cut a door down?
A 5: In general, you can take off about 1 in at the most from each side and still preserve the integrity of the door. You will not be able to cut an 8 ft door down to a 6'8 door unless the panel dictates otherwise.
Now that we have covered the general Q&A, lets dive into the shopping process.
Before you are ready to come in and shop doors, you have to determine what size door will work best for your space. Your builder should be able to provide you with this information, or you can bring in your plans and we can help you out. THE BEST TIME TO SHOP DOORS IS BEFORE YOU FRAME. We can't stress this enough; framing before you shop your doors will limit you to one particular door size, and then your options are more limited.
"Oh no! My house is already framed up, what do I do?"
or
"But I'm doing a remodel"
Don' fret, we still have a large variety of doors and are happy to help you find that perfect timeless treasure that meets your specific dimension needs. We assure that we have something for everyone, so don't hesitate to give us a visit!
Aren't these beauties gorgeous?!? You too could have doors like these in your home, BUT before you get there, you have to start here. (see below)
Welcome to the warehouse! The fun begins here!
Our warehouse is 10,000 sq. ft. and is directly attached to our storefront; as you can see, we have hundreds of doors for you to choose from.
The time has finally arrived! You've spoken to your builder, you have your dimensions, you have arrived at The Corbel, building plans in hand. YOU . ARE . READY.
You march into the warehouse with a sense of purpose; today is the day that you are selecting your perfect doors. Upon entering, you realize that your preconceived notions were wrong. You knew that The Corbel had doors, lots of doors even. What you did not realize was that The Corbel is LITERALLY antique door heaven.
You are so excited, you think to yourself, "Where do I even start?" Luckily, The Corbel team members are always standing by to help guide you through the door shopping process. We can be as hands on or hands off as you would like. It's all up to you.
One of the first things you will notice as soon as you enter our warehouse is the organization. The doors on your left are arranged by increasing width, and they will get wider as they wrap around the perimeter of the warehouse. Our solid doors are on the outer edge of the warehouse, while glass and iron doors are located towards the middle of the warehouse.
Our goal is to make the door shopping process as easy and clear cut as possible. All doors in our warehouse are marked with height and width dimensions and a letter that corresponds to the price of the door on each side. If the door is part of a pair, both doors will be marked as such. (see below)
"Um, question: How do I get the sharpie off of the door?"
Good question! You can just sand it off. Don't worry, it doesn't take hardly any elbow grease.
You may notice that some of our doors are painted, some are not. If you find a door that you love, but don't love the paint, we are happy to strip the door for you.
Let's say you have found this pair of doors for your space. They speak to your soul; you want, no, you NEED them, but you aren't ready to take them right now. No worries, we can hold your doors for you for up to 6 months.
You may be asking, "How do I take these doors from the warehouse, and get them looking like this inside my home (see below).
You will need to have some work done on the doors before they are ready to go in your home. They can not just be put into an existing jamb. Well, technically you can, but they most likely won't function well. The doors are 100+ years old, so they will need to be squared up and fitted into a new jamb.
Sometimes the glass in doors is cracked, or the glass is missing altogether, so you may need to have the glass replaced. Even if you do purchase a door with intact glass, you still may want to replace it with frosted, clear, or mirrored glass.
Any holes in the doors you may or may not want to have patched, depending on your taste. Some buyers remove any remaining non-functioning hardware; others like the character it adds.
We only do stripping here, but we can recommend a custom trim shop to handle all of your other door needs. They can square, trim, patch, put hardware on, replace glass, and frame the door in a jamb. Some of your home builders will have carpenters on site who can complete these tasks for you.
So now that you have gotten your doors back from the door company or your carpenter, you are ready to start the finishing process. You are almost done, yay!
Typically, you will need your door or doors sanded and finished. Luckily, your painter should be able to do this for you.
If you love the color of the door, we recommend using a water based poly-acrylic or you can use a product called Fiddes & Sons Supreme Wax Polish that we sell here at The Corbel. If you would like to add some color to your door, we recommend a product that we sell as well called Briwax. Check out this video for more information on Briwax.
We hope that we have put your mind at ease and given you some clarity on the door shopping process. The Corbel team members are excited for you and can't wait to assist you along this journey.
Whether you are looking for something simple….
Or something rare and elaborate……
We've got you covered.
Come visit us at The Corbel!
Store hours:
Weekdays 10 am- 5 pm
Saturdays 10 am- 3:30 pm
Closed Sundays
Warehouse Gallery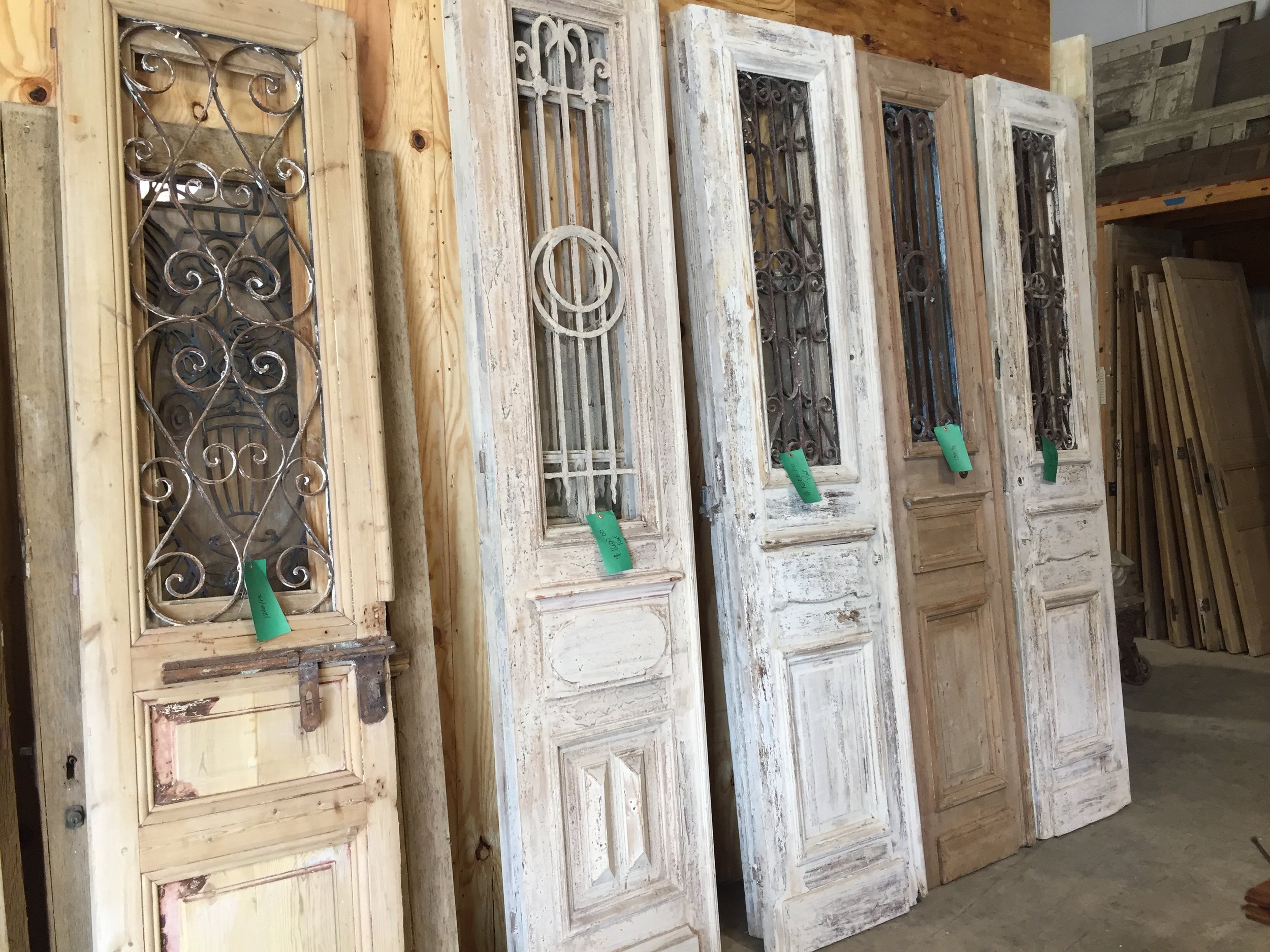 For more pictures of our doors click here.
Check out this video and see what advice The Corbel's owner Don Charlet has to give about door shopping.
Thank you to everyone who sent in pictures for this blog post! We love when we are able to see the finished product.
Be sure to follow us on social media for daily updates of our spring door shipment and to get a more relevant sampling of our current door stock!